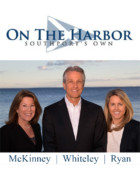 Our Listings
Team Overview
On the Harbor offers over 30 years of collective real estate experience marketing and selling across all price points and in various market conditions. OTH features the combined talents and extensive spheres of influence of AFA's top producing individual agents over the past several years. This is a formidable alliance when you consider that AFA as a group has been consistently ranked by the Wall Street Journal as the #1 Real Estate Team in all of New England by closed sales volume. Let us show you how we may be of service in helping you achieve your individual real estate goals.
Libby McKinney-Tritschler – Executive Vice President of Sales
Libby McKinney-Tritschler is a fifth generation Fairfield resident. In her 10+ years at AFA, Libby has consistently been a top producing agent including selling the team's highest ever listing for $16M on Beachside Ave. Libby is one of the very few local agents to have surpassed $100M in sales. Libby's insider knowledge of the Southport market and her unequalled work ethic are tremendous assets to her clients. Libby continues her family's long-standing commitment to public service and she serves on the boards of the Stewart B. McKinney Foundation and the Westport/Weston YMCA.
Andrew Whiteley – President of Premier Homes Collection
A Manhattan native, Andrew has consistently been ranked among the top-producing brokers in the country. Since moving to CT over 20 years ago – he has lived in Southport, Greenfield Hill, Greenwich and Easton. Through his professional and social networks, Andrew has developed unparalleled insider knowledge of the premier property market, and as such he is privy to many of the unlisted and unadvertised residential properties potentially for sale, the so-called "pocket listings". This unique position provides his clients with otherwise unavailable access to the most coveted properties. He embraces his position at AFA as President of the group's Premier Homes Division and enjoys selling the unique lifestyle and character of living on the harbor to the world.
Wendy Ryan – Senior Vice President of Sales
Born and bred in Fairfield County, Wendy has lived here all her life and embraces the spirit that the community has to offer. Her love for outdoor activities, close community and local charm is what has encouraged her to remain working and living locally. Wendy grew up attending both private and public school in Greenwich. She moved on to receive her BA from Boston College majoring in marketing and communications while competing as a Division I athlete in sailing. Prior to entering the real estate field, Wendy held a successful career in marketing and promotions. She consulted various Fortune 500 clients in building, launching and promoting their brands. Her knowledge and expertise in marketing strategy will give her clients a distinct advantage in reaching their specific goals. Client service has always been paramount in Wendy's professional career and continues to be in real estate. Wendy services a wide variety of clients with a specialty in relocation, new construction and investment properties. She understands the difficulty in navigating the complicated real estate market and thrives to make the experience as seamless as possible for all of her clients.
Share: