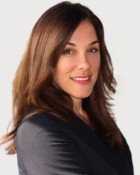 Janine Vairo is a dedicated full-time licensed real estate professional known for exceptional personal service. As a people person, Janine is committed to understanding her client's needs and serving them with honesty, integrity, attention to detail, and professionalism. Janine is an energetic individual who has extensive experience selling residential properties in Connecticut for the past 4 years and is focused on delivering the highest quality of service. Her positive attitude, diligent follow up, excellent negotiating skills, open communication and warmth are key to earning the high level of trust that her clients place in her. She has the ability to find just the right home for her prospective buyer and is able to efficiently and accurately assess market values when working with sellers.
Janine has been a resident of Darien for the past 15 years. She is married with two children and holds a BA in Marketing Communications from the Fashion Institute of Technology in New York.
As an active member of the Darien and Rowayton communities, Janine has developed a strong network of contacts which include friends and business associates in the area. In addition, she is very active in local community events and volunteering at her children's schools, mostly involved with organizing events and fundraising.
Prior to becoming a Realtor, Janine worked in New York City as a Media Planner at BBDO advertising agency and as an Advertising Sales Representative at Time Out New York and Men's Fitness magazines, where she consistently received top sales awards.
Her passion for life is reflected in her passion for helping her clients find the perfect home or helping sellers find a buyer for their home. Janine's enthusiasm and market knowledge brings an authentic approach to helping buyers and sellers at a much higher level.
Janine is also involved with the organization Move For Hunger – a non-profit organization which helps coordinate non-perishable food donations when people move from their homes and delivers the donations to the Food Bank of Lower Fairfield County. Janine blogs about Real Estate market trends, home design and home decor on various local media sites.
Testimonials
"Janine Vairo and I made an immediate connection. It was like catching up with an old friend – a genuine, enthusiastic person I knew I could trust. After a tour of the home we reviewed my options for a good ninety minutes. The presentation made me completely comfortable. We reached a consensus decision. Janine held open houses and did some property research at Norwalk City Hall. She negotiated a final price 27% greater than the original bid. Remarkable. Janine has a rare combination of patience, empathy and energy along with negotiating and teaching skills. I interviewed seven other realtors- none of them as accomplished or gracious as Janine. You won't find a better advocate as a seller or agent as a buyer."
Gordon H. – Rowayton, Seller
"Janine is absolutely a professional in every way. She is smart and truly pays attention to every detail, is super efficient, creative and proactive. We have been searching for a home together for the past 6 months…we are getting closer to finding a property that I can flip and I have every confidence that Janine will find me that perfect property very soon."
Fred M. – Darien, Buyer
Janine is a member of:
National Association of Realtors®
Connecticut Association of Realtors®
Darien Board of Realtors®
Darien Multiple Listing Service
Greater Fairfield County CMLS
Share: