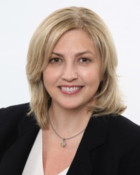 Susan has an impressive dossier in business; finance, the hedge fund world and private wealth management for iconic firms such as Sanford Bernstein and Morgan Stanley among others. Her business and personal finance acumen, combined with her passion for helping others, and extensive knowledge of Fairfield County, enable her to provide a high level of service and guidance to both buyers and sellers of residential properties along the shore.
Susan is a graduate of Lehigh University, with a B.A. in Economics, and The Loomis Chaffee School, where she continues to be active in alumni events and fundraising. She has served as a volunteer in the community, including on the governing board of the Levitt Pavilion in Westport, with the Greenfield Hill Church Dogwood Festival and The Patterson Club in Fairfield, as well as on several school and athletic parent boards, and as an education advocate.
As a native of Westport, and a lifelong resident of Fairfield County, Susan grew up in and around the waters of Long Island Sound and continues to appreciate all the amenities and beauty that coastal living provides. Having also lived in Greenwich, Fairfield, and Stamford, she enjoys a large network of family, friends, and former co-workers throughout. Though her lifeguarding days at Compo Beach in Westport have long since ended, she is still an avid swimmer and enjoys all water sports, including sailing, windsurfing, rowing, and open water swimming. Susan and her husband currently reside in Fairfield where they continue to raise three very active children.
Share: