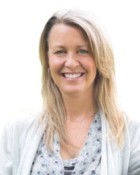 "Finding and making a house a home is something I enjoy very much; to be able to help others do this in the community I love is extremely gratifying."
Pam moved to Fairfield, CT with her family in 1998 after relocating from Dallas, TX. She has moved interstate three times and once moved abroad. Consequently, Pam understands firsthand the emotions of moving and the logistics of getting settled in a new environment.
"I have a genuine enthusiasm for working with people and continue to be in love with Connecticut. We're so happy to have ended up in Fairfield – it's easy to sell a town when you feel this way." Pam's enthusiasm inspires a strong desire to meet her clients' needs, whether it be selling their home or helping them find one. Marketing and selling are her strengths, both physically and visually. Pam excels at promoting Al Filippone Associates' listings. With the use of masterful advertising and high level search engine optimization, she will ensure that your home receives maximum exposure.
Pam graduated with a BA in Journalism from Texas A&M University and worked in television news at PBS and CBS affiliates in Texas. She later worked in the Advertising Department for CBS and became skilled as a Graphic Designer, eventually working for Fairfield Magazine and various local companies and organizations.
"Fairfield is a wonderful place to raise a family. Our schools are top-rated; we have a vibrant art and music culture, beautiful lakes and beaches, two excellent universities and a close and well respected community."
Pam lives in Greenfield Hill with her husband, four sons and two dogs. She is a Founder and Board Member of the Fairfield Foundation for Education, President of the Music Parents Association for Fairfield Warde and Fairfield Ludlowe High Schools and has taught Religious Education at St. Thomas Aquinas and St. Pius X parishes for the past eight years. She is actively involved in her local Book Club and Writing Group and enjoys gardening, decorating and long, lazy walks in nearby Trout Brook Valley.
Share: