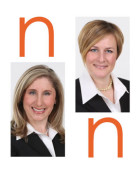 "We Make Our Clients Our #1 Priority"
Nicole Mansdorf & Nicole Farrell have been providing real estate expertise and supporting our local community living throughout Westport and lower Fairfield County.
With over a decade of real estate experience combined with 20+ years of sales and marketing expertise, our knowledge and proficiency extends to buying and selling in all market conditions.
Nicole Mansdorf and Nicole Farrell are members of Al Filippone Associates "AFA"* – WSJ Ranked #1 Team in New England, and Ranked #11 in Nation by the Wall Street Journal real trend report. AFA's Binder to Closing conversion is 15% higher than the 2013 reported national average of the National Association of Realtors (NAR) As members of the local Greater Fairfield Board of REALTORS® servicing lower Fairfield County, we always make our clients our #1 priority. We are unique and personalized in our approach: our customized marketing campaign, team strategy and hands-on boutique service is specific to each of our client's individual needs.
Our Commitment to the Community: As "Nicole in the Neighborhood" we provide a service to the community and our local vendors. Our unique "Vendor of the Month" Campaign and Fairfield/Westport Community calendar is disseminated throughout lower Fairfield County, through our Constant Contact database, as well as participating Vendors. "Nicole in the Neighborhood's" Resident Calendar is available to all residents of Fairfield County by emailing nicoleintheneighborhood@gmail.com. Visit & "Like" our Facebook page www.facebook.com/nicoleintheneighborhood. We provide a chock full of information including daily tips, fun facts and trivia, local happenings, local vendor specials, in addition to the latest and greatest in real estate news.
We look forward to servicing your home in your neighborhood today. #nicoleintheneighborhood | (917) 721.5510 | (646) 339.0774
Share: