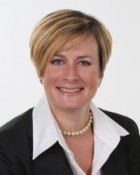 Nicole Farrell is approachable, straightforward, passionate, and resourceful when it comes to Fairfield County real estate. She has been a resident of Fairfield, CT for almost a decade and currently has two children enrolled in the Fairfield Public School system.
Nicole has over 10 years of experience in Sales and Sales Planning at L'Oreal, the largest cosmetics company in the world and a Fortune 500 company, which was her first professional position after graduating with a Bachelor of Arts degree from City University of New York, Queens College in Communications. She later went on to get her Master of Science in Elementary Education from Long Island University, CW Post.
Nicole was extensively trained in sales at L'Oreal, allowing her to fine-tune her sales presentation, negotiation, writing and interpersonal skills. She was named Rookie of the Year during her first year out of training, a testament to her hard work ethic, her knack for strategic negotiating, and her keen sense of how to succeed.
Nicole is currently the Vice President of Fundraising on the PTA Executive Board at her children's school, and she has been President of the Moms Club in Fairfield and Lower Easton — both positions enabling her to have first hand knowledge of family activities and events in the area, as well as happenings and trends in the region as a whole.
Nicole's extensive background in sales, along with having her finger on the pulse of local markets, make her a single point of contact for all your home buying needs. She is well organized, creative and persistent. She will undoubtedly exceed your expectations as a real estate resource, and will deliver the best possible outcome for you and your family.
When Nicole is not working with her client roster of buyers and sellers helping them find their dream home, you can find her with her family enjoying skiing and trips to Chatham, MA.
Share: