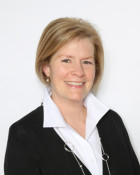 Being a good 'people person' has enabled Mary-Jo McAvey to excel at servicing her clients. A consistent top producer (#1 in 2012) with nearly $50 million in closed volume, Mary-Jo recognizes the value of hard work, networking and fulfilling her clients' end goals.
Getting to the closing table requires not only clear client communication but also a solid positive working relationship with all real estate agents, as well as steady dialogue with mortgage brokers and attorneys involved in each deal's process.
Mary-Jo's database of clients looks forward to her monthly newsletter which delivers current real estate news and a video interview with a local resident. She volunteers on behalf of her children's schools and sports. Mary-Jo is a 10 year board member of the Norma F. Pfriem Breast Care Center which specializes in providing a healing environment for breast cancer patients. She is a founding member of a local grass roots organization, The Giving Circle, which is focused on helping local charities.
Mary-Jo has been happily residing in Fairfield for 21 years along with her husband, three sons, and English Bulldog, Georgia. She enjoys working with her homeowners equally as much as welcoming new families to the Fairfield County area and watching them thrive in this very special part of Connecticut.
Testimonials
Mary-Jo was wonderful!! She was extremely patient and knowledgeable! Loved her!
~ Recent Client ~
…We began this journey with trepidation. However you came onto the scene with a confidence that immediately put us at ease…
As a result of your navigational prowess, communication skills and fortitude, we sold the house that was our home for ten years…And so it has become even clearer to us the importance of choosing an agent who knows the market, knows the client, knows herself and knows the pitfalls and rebound strategies in dealing with an increasingly stressful life event. From the get-go you embraced us, led us and even commended us. Thank you for sharing your knowledge, guidance and, most of all, yourself. We will certainly recommend you, and the William Raveis Al Filippone Associates, should the opportunity present itself. We will miss you.
~ K & P ~
Selling a home is never easy and especially selling your first home—but Mary-Jo McAvey knows what she is doing and gave me great advice throughout the entire process. She believed in the value of my home and she believed in me. She helped with contacts when I needed them and she checked in with me every step of the way. I highly recommend her to anyone who is serious about selling their home.
~Laurie Bagley~
Share: