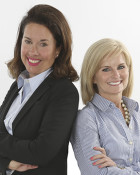 At Amy & Laura-Local Condo Experts, we specialize in working with condominium sellers and buyers in Fairfield and Westport. We will guide you through the complexities of condominium sales and purchases, which can be a more complex process than traditional residential sales. We are a collaborative real estate partnership that provides complete and thorough representation and service to each of our valued clients. Our expert counsel begins before your house is listed and continues through to the closing table– preparation and staging of your property; thorough research and preparation of a pricing and marketing strategy specific to your home and goals; pre-qualification of potential buyers; specific feedback and repositioning as appropriate; and effective negotiation of all offers and transactions to the closing table.
@Amy & Laura-Local Condo Experts, two full time agents work in tandem to sell or locate the perfect condominium. Two full agents working on your behalf means complete representation and exposure for you. In this fast moving market, our responsiveness and availability to our clients is essential, to the success of your sale or purchase.
Sellers choose us because we specialize in condominium sales. While we both have extensive experience in selling single and multi family homes, our focus is on the condominium marketplace.
Sellers choose us because we work with Al Filippone Associate/William Raveis Real Estate, the #1 Wall Street Journal team in New England for closed sales volume.
Sellers choose us because we will craft a marketing strategy specific to your property and goals. Who better to rely on than the two experienced, in the trenches, condo experts in the area?
Sellers choose us because we have expertise in condominium sales. You should hire the agents who understand the difference between selling a condominium and a single-family house. We understand the complexity of selling condominiums and can efficiently and effectively navigate through the details.
Sellers choose us because we have knowledge of the market. Buyers and their agents need to hear it from a condominium expert who can knowledgeably and accurately compare properties. We are knowledgeable about all the condos on the market and those that recently sold.
Sellers choose us because of our reputation locally and nationally. Al Filippone Associates/William Raveis Real Estate is well known for its excellent service, professionalism, and consistent track record year after year. Representation by our firm will command attention and respect for your property.
Sellers choose us because we are a valued resource for condominium owners. Not only will our property preparation team ready your home for our professional photographs, it will also assist you in de-cluttering and elimination of needless household items so that your home looks its best for potential purchasers. We also provide referrals for architects, contractors, bankers, mortgage brokers, and house cleaners.
Sellers choose us because we offer unparalleled online exposure that is proven to sell your home. With 96% of all purchased homes being first introduced to a purchaser "on line," it is imperative that you work with a Realtor who will offer you the ultimate on line exposure. Along with our full time social media expert, we will design a direct mail program, and targeted marketing strategies on LinkedIn, Twitter, Facebook, Pinterest, and Instagram that will likely find the right purchaser, for the right price, within your desired time frame. In addition, your home will be featured on our own website localcondoexpert.com, as well as afahomes.com, and Raveis.com. No one else can offer you such a comprehensive 3-tier promotion plan.
Share: