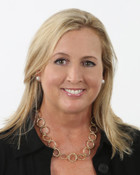 Integrity, Passion and Dedication to her clients is what separates Lisa from other real estate professionals.
Lisa started her professional career at Condé Nast Publications in NYC as an event planner for VOGUE Magazine. She was responsible for implementing marketing plans and creating new concepts and organizing all details for her client events. Each event was a process…one that took creativity, marketing, organization, meeting deadlines, and most importantly, satisfying her clients. Lisa learned how to simultaneously meet the needs of a variety of personalities with different expectations and high demands. This job presented great opportunities to work with some of the most well known designers, photographers, advertisers, and charitable organizations, all with expectations of perfection. It was this platform where Lisa developed her strong communication skills and ability to multitask in a very competitive environment.
When she chose to pursue a career in real estate, she found these skills became the essential foundation she applies to each transaction. She uses these abilities when working with sellers, buyers, real estate agents, lawyers, and appraisers in order to meet her clients needs successfully whether they are buying or selling.
Lisa is very passionate about the real estate business. She is devoted to her clients and to doing what she loves…interacting with people and helping them navigate the journey of buying or selling their most cherished asset…their home.
Lisa graduated with a BA from St. Lawrence University. She has lived in Fairfield for over 20 years. Lisa lives with her husband Sam, three children Lindsay, Tommy, and Katie, and three dogs. She is an avid tennis and paddle tennis player, and enjoys golf, good friends, and family.
Testimonials:
"Lisa has excellent judgment and personal integrity. She is attentive to detail and is very easy to work with. She stayed the course through a very trying and frustrating selling/closing process. Lisa is a straight shooter and is extremely honest with her clients. I can highly recommend her to anyone seeking a true professional."

~ Derby Ferris Anderson, Seller
"We loved working with Lisa! She had her facts and market info well documented, and told us ahead of time the criteria she would use to suggest a price reduction (even when we didn't want to hear it.) We followed all of her suggestions including the recommendations of the stager who she brought out at no charge for the initial consult. Lisa worked extraordinarily hard to sell our home within 60 days, having weekly open houses, so that we could be in our new home for the holidays. Our home had been on the market with another agent for nearly a year with no significant activity. It wasn't until we worked with Lisa that we realized how important it is to work with a professional with a solid marketing plan and an open line of communication. We would recommend Lisa Babington to anyone who is serious about selling their home."

~ Gail Bromer, former Easton resident
"As Thanksgiving approaches, I have been talking with my family about what we are thankful for. Each other, good health, our new home.  Our new home!  Which would not have been possible without Lisa Babington's hard work and dedication on our behalf.
I have been meaning to write to you about our wonderful experience working with Lisa. Lisa is passionate, dedicated, readily available to answer all questions, has excellent judgement and  personal integrity. Within two weeks, Lisa had our residence under agreement and carefully, thoughtfully guided us through a complicated negotiation to purchase our new home.
As I'm sure you'll agree, Lisa is kind, capable, honest, determined, driven to succeed. It was truly a pleasure working with her and I'd welcome the opportunity to be a reference for future clients."

~ Fairfield 'Greenfield Hill' resident
Share: