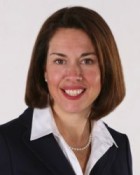 "With every client, in every transaction, I work as a partner. Through careful listening, dutiful research, extensive knowledge of the local area, and constant communication, I work with buyers and sellers tirelessly to provide more value than they would ever expect."
The winning combination of Laura and Al Filippone Associates, the #1 Top Producing Team in New England, serves as an unbeatable advantage within the local and national real estate markets.
Prior to working in real estate, Laura worked as an executive recruiter for AT Kearney Search, Heidrick & Struggles, and boutique firms in both Connecticut and Chicago. After 20 years in the recruiting business, Laura's consultative approach is deep rooted: unselfish advice, uncompromised integrity and an unwavering desire to work in partnership with her clients to reach their personal and financial goals. Laura's extensive local market knowledge and highly organized capabilities deliver optimal results in every transaction. A native of Westport, Laura has also lived and worked in Greenwich, Stamford, Darien, Ridgefield, and Fairfield. A magna cum laude graduate of Wheaton (MA) College and Westport Public Schools, Laura has lived in Greenfield Hill (Fairfield) with her husband and three children since 1994. An active community and school volunteer and philanthropist, Laura is also well versed in the youth sports arena, local dance and music programs, scouting and civic organizations, and public and private educational opportunities throughout Fairfield County. Laura's professional and personable approach, treating every client like he or she is the only one, earns her consistent compliments from satisfied clients and respect from industry colleagues.
Laura successfully completed the Al Filippone Associates Master Series on Negotiations course in June 2012.
Testimonials
"I really appreciated the speed of response to my calls and emails-it made the process so easy!" ~ Lindsay, Trumbull, CT
"All along the way Laura sensed our need and met them whether it be help in getting estimates for condo repairs or putting a fresh plant on the front steps. Since we were a long distance away it made us relax in knowing that she was there to help us when we couldn't be there. Laura made the process of listing and selling the family condo a smooth and relatively anxiety-free one. We could not have asked for anything more from a real estate agent and everyone was pleased." ~ Michele, Philadelphia, PA
"Laura is exceptional to work with. She is detail oriented, patient, and has excellent customer service skills. Being an expert in the Fairfield County real estate market is Laura's craft, and she works tirelessly to perfect it. Her broad knowledge of the business instills trust with her clients and her network of trusted mortgage professionals, attorneys, inspectors, and other industry professionals makes her a "one-stop shop" for any real estate need. I would highly recommend working with Laura to anyone thinking of buying or selling a home." ~ Tim Martin, NE Moves Mortgage
"My wife and I recently bought our first house in Stamford, CT using Laura Kottler as our realtor. We would unequivocally recommend her to any homebuyer, family, friends, first-timers or otherwise. Our path to closing was convoluted for first-time buyers but resulted in our purchasing a house we love. It was thanks entirely to Laura's knowledge of the local market and her intuitive understanding of the buying process that we ended where we did. She encouraged us to pursue what we most wanted, despite it undoubtedly resulting in more work for her in the end. Her communication greatly eased the overwhelming process of homebuying, through the tricky situations as well as the mundane. She was patient, honest, forthright, resourceful, and enthusiastic. She worked seamlessly with our great mortgage broker (found through her) to facilitate the process. We felt that she genuinely upheld and represented our best interests throughout the process, much like a trustworthy family member. In fact, she was one of the first people we invited over to meet our baby daughter born shortly after our closing! If you want someone who will be by your side and have your back through the process then Laura is the one you want!" ~ Rattiya and Matt, Stamford
 "My wife, baby and I were moving from NYC in spring of 2015 and Laura did an incredible job for us! Laura's knowledge of the local market was great.  She knew every house before we even finished with the description and often remembered the interior layouts as well.  We were able to navigate Fairfield's market efficiently because Laura knew what areas would interest and which areas not to waste our time. As first time home buyer's, Laura's experience with the buying and selling process was invaluable.  We were complete rookies and having a guide like Laura made a potentially stressful situation much more comfortable.  To have an agent who we could text or call at anytime and receive a response almost immediately is reassuring.  Buying a home gave us anxiety but having answers from Laura at our fingertips was a major help. We would recommend Laura to anyone looking for a home in Fairfield County.  She was more than a guide for us as she gave insightful opinions of what to look for, what had value and red flags that we might regret down the road.  We are coming up on a year in our first home and we couldn't have gotten here without Laura's help!" ~ Karen and Jordan, Fairfield
Share: