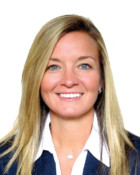 Kim Nickerson has over twenty-five years of experience in business.
After relocating to Darien I know just how stressful buying a home can be. Whether you are purchasing, leasing or selling a home, let me be the one to help you with all your real estate needs.

As a wife and a mother of two teenagers who have relocated to new areas and changed homes from New Jersey to Connecticut, I know how hard it is to find the right house and location that fits the unique needs of your family.

That's why I work with all my clients as if I were in their shoes to make sure they find exactly what they are imagining. I work hard to keep up with identifying the right opportunities that fit your situation at your speed. I am also cognizant of how you would like to engage whether it be in person, by phone, email or text so that the experience tops your expectations.

I have spent over four years working with a real estate development company in New Jersey helping them coordinate projects that included single family home developments, land track purchases and improvements, a condominium development and a 25 story hotel project. This broad array of experience adds to my ability to help you not matter what requirements you may have.

Please call me to discuss how I may help you.
Share: