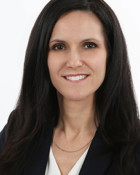 Kelly Myers believes that delivering the absolute best service is the most effective way to connect with her clients.
Kelly chose to join Al Filippone Associates to be part of the number 1 real estate team in New England providing unmatched service and skill. With superior listening skills, she is prepared to handle your transaction with the utmost dedication to your needs while exceeding your every expectation.
Kelly is an outgoing and enthusiastic individual who prides herself on her organizational skills and business acumen. She is prepared to lead you through a seamless real estate transaction whether you are selling your home, buying your dream home, or simply moving to that community that you always imagined. Her commitment to your goals, dependability and determination are part and parcel to your experience when working with Kelly.
Kelly understands how to stay focused and how precious and valuable your time is. She is committed to keeping you on track and on target with your needs. With more than 20 years of relationship building as well as a banking and lending background, Kelly's organized approach and confidence will make your real estate brokerage experience as successful, pleasant and productive as possible.
Share: