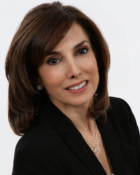 "I am committed to delivering exceptional customer service with integrity, attending to every detail, and keeping my customers best interest first and foremost."
As a Westport native, Katie has had a love affair with Southern Fairfield County her entire life. She raised her daughter, a graduate of Staples High School and current University of Texas student, in Westport and now resides in Fairfield.
Growing up, Katie studied at the area's fine schools and played at its many beaches and parks. And she is still enjoying her life here, enthusiastically pursuing her career and varied cultural and leisure interests.
Her deep local knowledge of Westport and Fairfield gives her a true insider's feel for all the wonderful amenities and lifestyles these communities offer. Drawing on that, and her diligence and success in both women's apparel and high-end catering, Katie provides a unique perspective and a caring, positive experience for her clients.
While her daughter was attending Westport's public schools, Katie was involved in many school related activities. She was an Art Smart coordinator, a room mother and served in the Music Parents Association, as well. She continues community service, to this day, volunteering for Near and Far Aid, the Gillespie Center and Operation Hope.
Katie is a graduate of American University in Washington DC and has a BA in Literature. She also has a certificate in Culinary Arts from The Institute of Culinary Education in New York City and has been awarded "Best Caterer" by Fairfield Living Magazine 3 years in a row.
Share: