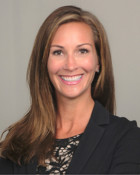 The REALTOR McCoy
As a recipient of Connecticut Magazine's prestigious Five Star Professional Award for two consecutive years, Jennifer has built a solid reputation among her clients and peers for providing trustworthy, well-researched and dependable advice. She demonstrates an unyielding commitment to her career as evidenced by her high customer satisfaction ratings and client testimonials.
A veteran in the marketing and real estate arenas, Jennifer knows what works to sell homes. She has developed a proven system for her clients, and has helped numerous clients achieve their real estate dreams!
Originally from Michigan, Jennifer earned a Double Major from The University of Michigan in Psychology and Communication and a Master's degree from Michigan State University in Advertising/Marketing. After enjoying a career as a leader of a Fortune 500 company and a Partner/Marketing Director of a Fairfield County Sporting business, she has shown consistent leadership, integrity, savvy negotiating, out of the box thinking and cutting-edge marketing skills.
An athlete and musician by nature, Jennifer continually challenges herself to stay active, sharp and creative in order to provide her clients with that necessary competitive advantage. Her many diverse interests include fitness, volleyball, music, real estate investing, travel, and her family's sporting, music, and equestrian events. She is also an active volunteer in the community, helping to support non-profit organizations, such as parent teacher organizations, Alzheimer's Association and Habitat for Humanity. Jennifer's move to Al Filippone Associates was a natural fit for her personal growth, career passion and her dedication to achieve a satisfying experience for her clients.
"You are smart, and you have already begun your research, but buying or selling a home can be an overwhelming process without the proper care and support. In today's real estate market, you need a dedicated advocate and Advisor who will think out of the box, get you answers, and provide solutions that help you. I will listen to your needs and get you the right results."
Testimonials
1. "Trust me, you have never had a quality real estate experience until you have worked with Jennifer McCoy! I have worked with MANY agents over the last 10 years, both personally and professionally (I work in the relocation industry). Too many try to impress, showing up coiffed, in expensive cars, with glossy marketing materials, and they promise the world. Jennifer differentiates herself by actually delivering! With experience, knowledge, and endless energy – she is a gem! I bought a house with Jennifer and also sold a house, and both experiences were beyond my wildest expectations. Here are a few observations I made in working with her:
* She listens and has true empathy
* She is always available
* She is real and completely honest
* She is ethical and kind
* She is humble and never stops learning
* She pursues every lead and lets nothing fall through the cracks
* Her marketing skills will knock your socks off
* She made my house show like it was in a magazine!
Jennifer McCoy is truly a unique professional!" – Wendy
2. "Jennifer was very engaged and helpful with suggestions to sell my home, which was welcomed after previous unsuccessful tries to sell the house. She was very responsive and could be reached any time, if I had questions. Jennifer provided many ideas of how to make the home more appealing, and always kept me up to date on activities. I can definitely recommend Jennifer as an agent. –Raimund
3. "Jennifer has been a pleasure to work with through my selling process. She's always quick to respond and was full of great ideas on helping me get ready to sell my home through the final process of working through an offer. She is always helpful and professional. And does everything with a smile! – April
4. "If you are selling or looking for a home in Fairfield County, CT, Jennifer McCoy is the ONLY agent you should consider. She listens, thinks and does so more than just ooh-and-aah over the house — she gives it to you straight and helps you make a smart decision. HIGHLY recommend." – Aimee
5. "The combination of Jennifer McCoy's marketing expertise, knowledge of the real estate market, and natural exuberance make her the ideal realtor! When renting out my condo, I was very nervous and reluctant going into the process. Jennifer's excitement and real estate savvy eased my apprehension and actually turned the rental process into a terrific experience! Her careful planning and creative preparation translated into getting a tenant for my condo on the VERY first day that it was listed on the MLS. By the time you get done working with Jennifer, she won't just be your realtor but also your friend!" – Erica
6. "Jennifer was very helpful prior to listing my home, as she provided suggestions that would better showcase the features of the home. Once listed, she has been fast with responses on questions from potential buyers and agents as well as from me. She provided great guidance as we went through the negotiation to contract. Her expertise has made 8this process surprisingly smooth." – Scott
7. "I am an attorney and I worked with Jennifer on a mutual client's sale and purchase. She was on top of every detail and was pro-active, which is very helpful to an anxious client. Jennifer's communication skills are very impressive: She kept me and our client informed on what seemed to be a real-time basis. She also took the lead in negotiating the inspection repair items, which makes for a smoother contract negotiation process." – Kristina Kelly
8. My experience with Jennifer McCoy, The REALTOR McCoy, was wonderful, since my very first interaction with her. She went above and beyond in every aspect of our real estate transaction from the second we first met via email. My family and I found out we were to be relocated to Fairfield County with very short notice. We flew across the country (giving Jennifer a one week notice) to find a house in just three days. She not only cleared her schedule to spend every waking minute with us for those three days, but she found our family the perfect house. Coming from out of state, we had numerous questions for Jennifer. Questions pertinent to the real estate transaction, as well as questions about the area, babysitters, best restaurants, things to do, etc. And, if she did not immediately know the answer to every single question, she did her research to find the perfect answer, always getting back to us or putting us in touch with the proper person promptly. If you want someone that will bend over backwards to make sure all of your needs are met in the best way possible, then look no further, you have found the perfect Realtor. We will potentially be relocating again within the next few years, and we will definitely be hiring her again! Thank you again Jennifer, you are amazing!" – Christina
9. "Jennifer did a great job. We were relocating with a very short time window. She lined us up with great places to see in a short time. Since we were still in our other place far away, she helped a lot with local logistics before, during and after the sale. We would highly recommend her to others." – Mario
10. "Jennifer helped my family relocate from CA to CT. We were working with a very tight timeline and trying to find a house while on the other side of the country. Jennifer was incredibly responsive, flexible and professional. All the attributes that we were looking for and needed. She had knowledge about the area where we were looking to move and helped guide us to a location that made sense for our family. Once we found a home she provided guidance that helped us to close the deal. We are so very thankful for all of her efforts. Our family is so happy in our new home and we have Jennifer to thank. We would highly recommend her to anyone." – Lindsey
11. "Jen is a fantastic real estate agent! She was very insightful, knowledgeable and has a wonderful personality! She helped us sell our home in less than a MONTH! I highly recommend her and would use her services again in the future…" – Suzanne
12. "Great to work with. We were relocating to another state and Jennifer had experience with relocations. She was meticulous in helping to stage our home and the photographs taken were amazing. We were able to sell our home in 4 short weeks in a very difficult market. I would highly recommend her." – – Carissa
13. "Jennifer McCoy was an attentive and knowledgeable agent throughout the process of purchasing a new home in CT. She went above and beyond to find listings that matched our "wish list", and since we were from out-of-state, she took the extra step to pre-screen several properties herself so we could make the best use of our trips to view properties. She was able to grasp what we were looking for, helped us understand the market trends in the area, and was helpful in negotiating a fair price. She provided excellent advice throughout the process while never making us feel pressured. This move was a big step, made infinitely easier by Jennifer's expertise and insights." – Trulia user, CT
14. "Jenn McCoy was fabulous. She walked us through everything we needed to know as first time home sellers. She was available and quick to respond. THANKS Jenn!" – David
15. "My agent, Jennifer McCoy, was a source of complete and pertinent information. She was a strength during a stressful time and was key in completing my home purchase. I couldn't be any more happy or thankful for her service and support. Jennifer went the "extra mile" ensuring all information was gathered and available to me. I highly recommend her." –Keith
16. "Jenn McCoy helped my brother and I sell our childhood home in record time. With her help, we were able to get the house ready to sell and onto the market in just 3 weeks. There were multiple bids within the first week because of her ability to price the home correctly. The house was under contract in one week and the house closed less than 6 weeks later. Jenn helped tremendously with the staging and presentation of the home and her hard work paid off with the quick sale of the home. We would highly recommend Jenn to anyone looking to buy or sell a home" -Susan
17. "As first-time home-buyers, we found the process of finding and purchasing our new home to be overwhelming, especially since we weren't buying from a private owner. But from start to finish, Jenn McCoy was more than equal to the task.  She explained the details, answered all our questions (some of them more than once!), helped in connecting us with all the people involved (mortgage brokers, attorneys, the inspectors, etc.) She kept us calm as we watched the calendar to see which would happen first – purchase approval and closing versus the end of the lease in our then-current rental.  And she worked tirelessly behind-the-scenes to secure several last-minute city approvals that could have stopped us cold.  I can't say enough about how great she was to work with.  Suffice it to say that, if we ever go back into the home market as a buyer or seller or both, she will be our go-to agent!!" – Amy and Adam
18."Well, we are finally settled into our new home!! I am not someone who is generally at a loss for words, but I am having a difficult time expressing just how grateful and appreciative we are to have had Jennifer McCoy on our team while purchasing our new home. The best way that I could possibly even begin to express how thankful we are, is to explain just what Jenn did for us.  On February 25th, a home that we had our eye on for several years became available due to a foreclosure. Although we were not entirely actively looking to purchase a home, we knew we had to consider this house. Jenn rearranged her schedule to have us in the home that evening! It was late Thursday night, there was no electricity, it was freezing and dark, but we knew we wanted to jump this house as it was everything we wanted. It turned out that the home was a HUD property and we had very limited time to make a decision and get all special paperwork in. Jenn worked tirelessly all weekend to get us in touch with our mortgage broker, contractors, attorneys, the selling agent and researched everything that would need to be done in order to make an offer once the bidding was open. She strategized with us and managed the entire process so that we were the first bid the moment they opened up the home to owner occupants. A week later, we found out our offer was accepted!!  Jenn did not stop there. She managed the entire process and took control of every aspect of the sale- making sure we had all our ducks in a row for this house to close. It was by no means a simple process and the reality is that we could not have done this without her. The house was a "hot property" and had hundreds of people interested in it. Even the selling agent told us that the reason the house was ours was ours because of how "on the ball" Jenn had been. Jenn truly cares about her clients and always has their best interest in mind. This house came at the most stressful time in our lives and without Jenn, this purchase would have not been possible. From the bottom of our hearts, thank you!!" – Jennifer and Nick
19. "We love Jenn! In both our search for a new home and the sale of our old, Jenn was patient, understanding, professional and always sweet to us. She always tried to listen carefully to our concerns, and never made us feel pressured with any decision.  Her expertise shone when we sold our old home, as she provided the right inspiration and assistance to get our home sold quickly.  Her experience and guidance helped us through the whole process and we couldn't be happier with the outcome.  Thank you, Jenn!" – Cynthia and Dave
20. "Working with Jennifer McCoy made the process of selling my home and buying a new one far less stressful than I know it could have been.  Even on the days I felt like I couldn't finish this process, Jennifer always reminded me that it would all work out in the best way possible.  Jennifer was available whenever I needed to reach her and made me feel like I was her only client.  She listened to what I wanted in a new house and never pushed me into looking at house that I didn't want or couldn't afford.  I am so happy in my new house and thankful I had Jennifer by my side." – Megan
Share: