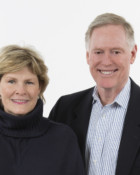 A real estate transaction is never an easy task but when you have a capable professional assisting you like Mary-Jo, it makes the process proceed smoothly. It was an additional asset to have her (partner and) husband, Vince, involved in the process. We would be happy to refer their services to a relative or friend. ~Nancy & Bob Ippolito
With 40 years of joint sales experience and excellent customer service, Mary-Jo and Vince offer a proven winning combination to all their clients. Embracing a no-nonsense business sensibility, positive energy and genuine client interest, this top producing partnership has successfully negotiated 80 home sales over the past decade. Agreeable resolutions are a by-product of their determined effort to remain in communication with all parties in the transaction—client, agent, attorney, mortgage broker.
Mary-Jo and Vince have a steady focus in the Greenfield Hill Market area of Fairfield, CT. Since 1993, they have called this naturally beautiful section of town, home. Their deep affinity for and knowledge of Greenfield Hill provide their buyers and sellers alike with a solid basis in home owning transactions.
Share: