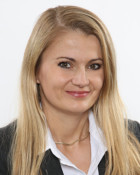 "In essence, even my hobbies are indicative of my passion for real estate.  People trust my judgement because they see my results.  I'm highly motivated, and others are inspired by my restless efforts to be at their service. "
Erika Wright, having earned a Masters' Degree from Sacred Heart University is proud to serve you in Fairfield County for all of your real estate needs.
Erika tenaciously protects her clients' interests through savvy negotiations while being aware of the emotions involved when one is buying or selling a home. She is extremely client-oriented,focused on her seller clients' individual and total experience, doing whatever it takes to procure the most amount of money in the shortest amount of time for their home! She believes in aggressive online marketing, and due to her outgoing and social lifestyle, you will find her talking about real estate in all settings, forever searching for that perfect opportunity for you.
Erika lives in Fairfield with her two sons. She is multilingual. She loves to travel, yet each time she returns home she feels safe and extremely blessed to live close to the water in such a vibrant town. Erika's children have the opportunity to engage in any activity one can imagine in Fairfield, and they love their school.
Erika is proud to be a member of Al Filippone Associates, the #1 team in New England, where she has the benefit of the highest staff/agent ratio, offering unique, cutting-edge marketing for each of her listings.
Share: