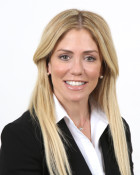 Christa is a full time agent and consummate professional dedicated to working with first time or experienced buyers and sellers. She has been living in Fairfield for eight years and has intimate knowledge of buying and selling, having relocated twice and built three homes of her own.
She prides herself in providing outstanding service for buyers and sellers with the utmost integrity. In fact, she has always had an art for serving and caring for others. Prior to her real estate career, she worked in Radiology at Yale New Haven Hospital and Temple Radiology in New Haven, CT. The empathy and caring traits Christa embodies from her time in the medical field transition seamlessly to her current role and her clients benefit by having an agent that is open, honest, and direct.
Christa and her husband chose to raise their family in Fairfield, as it is an amazing community that provides many opportunities for their children and also close proximity to New York for her husband's commute. They are actively involved in the community and truly enjoy attending their children's sporting events. While not working tirelessly for her clients, she enjoys cross fit, running and family time.
Share: