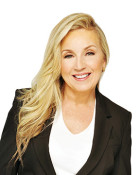 Carla Kupiec is known for her exceptional drive and excellent reputation. She has earned that reputation through hard work, client advocacy and creative thinking. She has been called a "Trusted Adviser" by many of her top clients that have repeatedly used her when buying and selling homes. A veteran to the real estate business since 2000, Carla  raises the bar to exceed the expectations of her clientele. Carla not only gives exceptional service and a methodical plan to marketing a property, but is a top negotiator who facilitates the best price for her clients on both the list and sell side.
The proof of Carla's success is in her record of business in Manhattan where she is recognized as a Top Producer for the past 14 years. She repeatedly handles over 200 transactions a year in both rentals and sales and relocation. Carla, a resident of Darien, expands her business to Al Filippone Associates as she finds that her NYC clientele are ready to expand their families and head for the suburbs.  Those relationships that she has nurtured over the years in Manhattan will provide a distinct advantage to her clients in Darien as she markets their home.
Testimonials
I had the opportunity to work with Carla and Robin on two separate occasions, one for a home purchase and the other for a rental property, and they were such a joy to work with. They were proactive, handled all the details, were responsive at any time of day, and made the process seamless. I could not be happier.
John
Share: