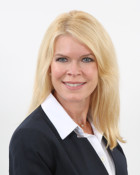 Ann epitomizes the qualities one seeks in a realtor with her commitment to excellence, strong communication skills and relentless tenacity. Her combined knowledge of the local market and love for the area is evident in her positive attitude and enthusiasm. A twenty year Fairfield resident, her knowledge of the town and the surrounding areas is demonstrated in her ability to provide valuable guidance and assistance to her clients whether they are buying or selling.
Ann brings a strong corporate marketing and sales background to real estate having worked for two national medical companies. She is known for her professionalism, attention to detail and positive attitude. Ann is passionate about the needs and goals of her clients and works tirelessly to ensure their real estate experience is a positive one.
Ann and her husband Jeff reside in the Greenfield Hill section of Fairfield with their three teenage boys. In her free time, Ann loves to ski, play tennis, and spend time with friends and family.
Testimonials
"Ann always had our best interests at heart through the whole process. She was very knowledgeable and always there for us to guide us through the process." Tim B.
"Ann was always available, professional, highly skilled and enthusiastic! She helped us find our new home and then got our current home under contract in less than 30 days! She handled all the moving parts with precision and made the process as smooth as possible." Nina S.
"Ann did a great job helping us find our home. Her knowledge of the area and the market made us feel very comfortable with the home buying process from start to finish. Thanks to Ann, we were able to move quickly on a house that was only on the market for one day, and we would never would have found it without her!" Andy and Celia T.
"Ann was very dedicated and patient. She was enthusiastic throughout the whole process. We would recommend her to anyone!" Laura D.
Share: