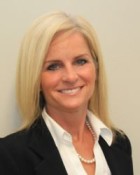 "My goal is to provide outstanding, consistent and personalized service throughout the buying and selling process for my clients. I bring an extensive background in sales and marketing to each transaction, combined with strategic thinking, strong negotiations skills and savvy social media knowledge and implementation.
I believe that my relationship with you, the client, is the most important component of any successful experience. Our relationship is built with effective communication, responsiveness to your needs and market insight to ensure your peace of mind. I communicate with my clients through whatever means is most suitable for them, be it face to face, phone, texting or email…to keep them informed at all times of developments with their transaction."
Amy's success in the Real Estate industry is based on her commitment to client service, diligent follow through, market knowledge, and her 15+ years of experience in sales and marketing. Prior to entering the Real Estate Industry, Amy had a successful career in client management in the Private Banking and Investment Advisory Business with BBH & Co. She then pursued a successful career as an executive recruiter in the financial services industry focusing on the Mutual Fund, Investment Management, 401K and Private Wealth Arena. In this role she managed corporate relationships as well as the recruiting and placement of numerous financial services professionals. Client Service, marketing & sales has been a consistent focus and one she continues to bring to the Real Estate industry.
Amy holds a B.A. of Economics from Brown University. She continues to be involved in Alumni events for her alma mater as well as Northfield Mt. Hermon school where she attended boarding school. She has resided in Fairfield for over 8 years with her family and children, ages 15 and 16, and enjoys all that Fairfield County has to offer. She is actively involved in Near and Far Aid of Fairfield County as well as serving on the President's Council of The Norma F. Pfreim Breast Care Center in Fairfield. She is on the Fellowship Board of Greenfield Hill Congregational church as well a member of the Greens Farms Garden Club of Fairfield. She volunteers at the Annual Dogwood Festival in addition to The Women's Exchange in Southport Village. In her free time, she enjoys cross-fit training, running, reading, cooking and spending time with friends and family.
RECENT AWARDS:
2014 Achievement Award – Total Sales Volume, Al Filippone Associates
2014 Outstanding Sales Performance – Most List Side Transactions Sold, Al Filippone Associates
2014 Marksman Award, Al Filippone Associates
Share: