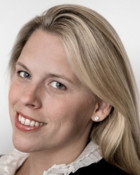 Amanda is known among her colleagues and clients for her enthusiasm, integrity, and superior customer service. Those who have worked with her say she brings a savvy and fresh approach to real estate sales. Born and raised in Greenwich, Connecticut, Amanda moved to New York City following her graduation from Ohio Wesleyan University, where she majored in Journalism.
After several exciting years working in television production, she began her real estate career in 2003 with the prestigious Manhattan firm of Stribling & Associates. Amanda had great success helping her clients buy and sell co-ops, condos and townhouses. She also worked closely with residential real estate developers to market new developments and building conversions, most notably the apartments at The Plaza Hotel. Although long time fans and residents of Manhattan's Upper West Side, Amanda and her husband, Ted, happily returned to Fairfield County to raise their children.
Today, Amanda is licensed in both Connecticut and New York. This, coupled with her vast knowledge of market trends and the intricacies of local towns and neighborhoods, makes Amanda a relocation expert. An avid lover of sports and the outdoors, she can often be found in her spare time playing tennis, paddle boarding the Saugatuck River, or taking "nature walks" around the Audubon with her husband and three children.
Share: