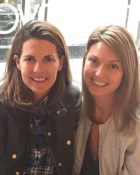 Grayson and Colette, best friends from Rowayton, Connecticut, had long been drawn to the world of interior design after having renovated and decorated four homes between them. Their passion for beautiful interiors, coupled with their love of working with people to realize their dreams of turning their houses into beautiful homes, motivated them to start their own business venture, FigTree Designs.
After multiple requests from friends to "spruce-up" their homes to make ready for sale, they brought their passion to the staging world and have partnered with Al Filippone Associates in Southport and Darien to help homeowners and agents bring to market a home's best potential for the fastest and most profitable sale.
Testimonials
We had a great experience using the in-house stagers. They transformed the home from a customized and personalized home to one that would appeal to all walks of life and different tastes. They were very hands on, yet also took feedback from myself and the homeowner. It was very much a joint project, but they also could have taken on the project from A-Z on their own. We have had tremendous feedback since we listed the home. Everything from "is the homeowner an interior decorator?", to asking if they could purchase the home furnished, to requesting the contact information for the decorator. The time and money spent was well worth it and I would recommend the team to anyone who needs and entire house staged or to an owner who just needs a few small things rearranged to prepare for a sale.
– Darien, CT Listing Agent
Share: